Kensuke Miyazaki

Titled :"Kesennuma Giant Tuna Roll Sushi"
Work shop with the children at the gymnasium "K Wave" temporary evacuation center 2011
1250mm × 3000mm Picture size / framed
This Frame is for image only.

Actual frame may differ from the photos.
Price : 1,200,000 JPY
* 1JPY = 0.00729590 EUR 1JPY = 0.00951867 USD (as of September 4, 2014)
Kensuke Miyazaki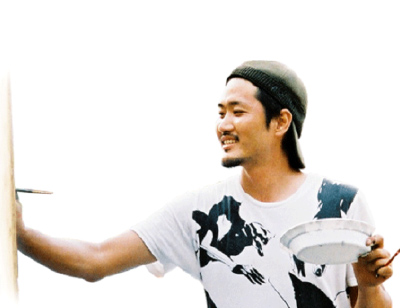 Miyazaki is a painter who has been performing around the world as "a live painting" artist.
Wishing to do anything in his own capacity to help after the massive earthquake struck the north east coast of Japan, he has been active in supporting the Tohoku region.
He has carried out various projects such as work shops for children at the evacuation shelters, painting murals with the volunteer staff; projects that have helped give encouragement and energy to the people of Eastern Japan.
Plan on supporting Funds for murals  he wants to make with the children who also worked on the mural.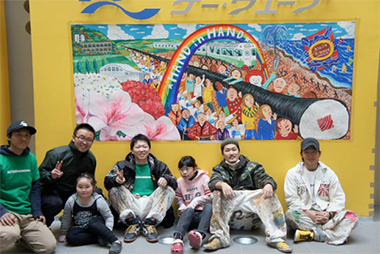 The Flow of your Purchase and Support.
Select your favorite work from the GIVING GALLERY site.
Payments are made easy around the world with credit cards on Rakuten Global Market.
One to two month after your purchase, the art and information about the party or institution you have supported will be shipped to you.
GIVING GALLERY may be contacted by e-mail.
The buyer may request information regarding the artist and the party/institution buyer is supporting.
ART GIVING Project and Project Fumbaro Eastern Japan can, as needed, to help collector keep in touch with the artist and party/institution after the purchase.
All proceeds of the sale of each item after deducting necessary expenses will go to the fund to support the disaster stricken region.
※Necessary expenses include cost of frame, shipping, insurance, expenses incurred for the creative, expenses incurred for investigating that transaction of the sale and donation have been properly carried out and 10% handling fee of the net price.
The price of our items are given in JPY.
The exact rate you receive may vary depending on the day on which you made your purchase.
*1JPY = 0.00729590 EUR 1JPY = 0.00951867 USD (as of September 4, 2014)

On your purchase, you can link with the people you are supporting and get their update through us!